NEW VENUE

Content London is moving to Kings Place, an award-winning venue with first class catering and more than twice as much networking space as our previous venue. Call C21 on +44 (0) 20 7729 7460 for information on how to make the most of your promotion during the event.

KIDS CONTENT
FUTURES

This one-day event, on November 28, provides a stimulating insight into the content strategies of the most progressive players in the children's entertainment business.

UNSCRIPTED
ENTERTAINMENT FORUM

New for this year the Unscripted Entertainment Forum, this one-day conference on November 27, brings together the leading players in factual entertainment to showcase their latest projects and discuss trends in the global business.

CONTENT LONDON 2017

Content London is one of the most stimulating events in the global content industry calendar. Over three days it plays host to three conferences, which pull together all sectors of the entertainment business: The International Drama Summit, the Unscripted Entertainment Forum and C21Kids Content Futures.
CONTENT LONDON SPEAKERS ALWAYS PROVIDE VIEWS YOU CAN USE!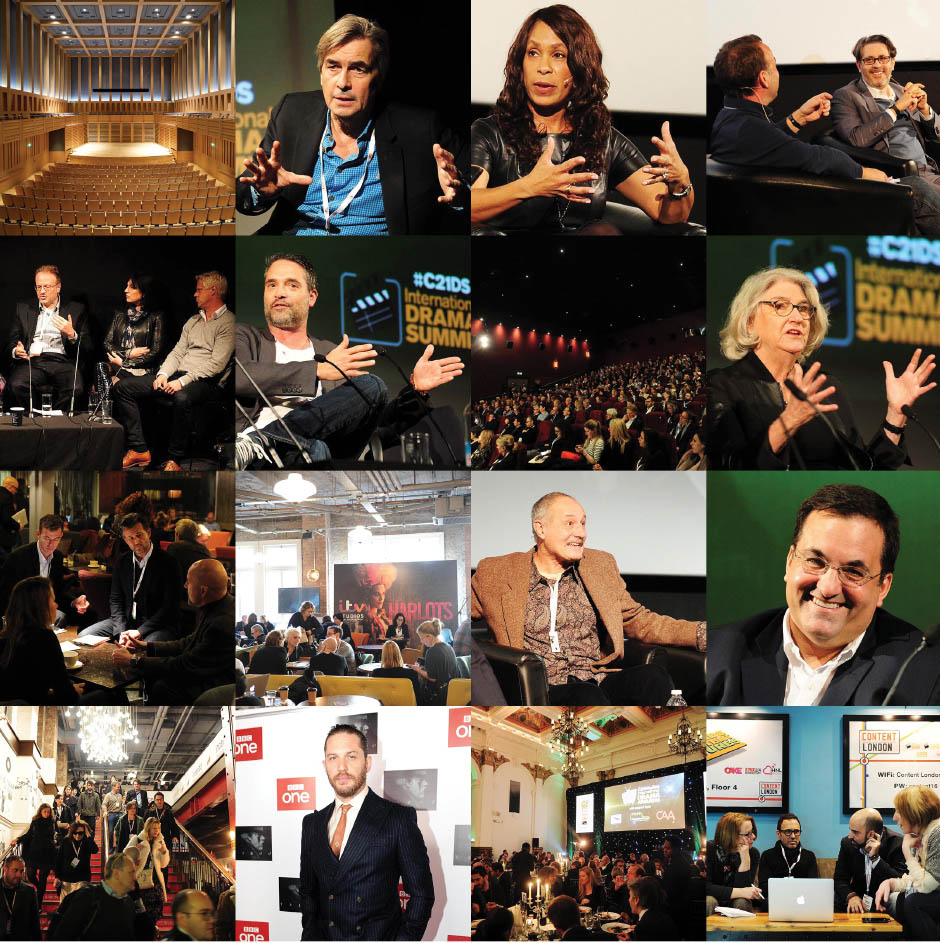 The following companies attended Content London 2016
3AD, A&E, ABC, Action Concept , Alan Gasmer & Friends, alibaba, All3media International, Amazon Studios, Amblin Television, AMC Networks, Anonymous Content, Anthos Produzioni Srl , Assembly Entertainment, Atlantique Productions, Ausfilm, AWESOME, Axis Studios, Bad Robot, Bakersfield TV Series, Bavaria Fernsehproduktion, BBC America, BBC Worldwide, BBC Worldwide North America, BBC Worldwide Productions, Beware the Timid Life, British Film Commission, Calm Down Productions, Inc., Caryn Mandabach Productions, Character Seven, CIC Media LLC, Cinecitta Studios, Cocoon & Lighthouse Nation , Color Force, Comarex, Constantin Film , Content Media Group, Crackle, Creative Artists Agency, Creative England Television Drama , Dapper Bird Entertainment, Dark Highway Films, Desert Road, Discovery Productions, Dreamrunner Pictures GmbH, Dreamworks Television, Dynamic Television, Eccho Rights, Echo Lake Entertainment, Element 8, Elisa Entertainment Service , Elisa Oyj, Endemol Shine International, Endemol Shine North America, Endgame Entertainment, Entertainment Master Class, Entertainment One, Entertainment One Australia & New Zealand, Entertainment One Television, Estuary Films, Faerie Media, Film & Ink Law Group PC, FILM.UA Group, Filmlance International, Fox Networks Group Brazil, Frantic Films, FremantleMedia International , FremantleMedia North America, Fresh TV, G5 Fiction, Gaumont International Television, Global Eye Content, GLOBO, Globomedia, HBO Europe, HBO Latin America, Hulu, Hungry Eyes Film & Television , IDW Entertainment, Imperative Entertainment, Incendo, Industry Media, Ink Factory, Ink Media, International Academy of Television, Irish Film Board, ITV Global Entertainment , ITV plc, ITV Studios Australia, ITV Studios Global Entertainment, ITV Studios Marketing, Jim Jorden Productions, KahnPower Pictures, Kensington Capital Partners, Keshet International, Kew Media, Kickstart Productions, KQED, Lagardere Studios Distribution, Lifetime Television, Lionsgate, Machinima, Mad Rabbit, Mandeville Films/Television, Marsh Entertainment, Marvista, MASTERPIECE WGBH, Mastiff, Mediapro, Miner & Co Studio , MIPCancun, Miramax, NATPE, Netflix, Neue Deutsche Filmgesellschaft, Night in Los Angeles, NRK, Omnifilm Entertainment Ltd., Paramount Pictures, PBS, Perfect Storm Entertainment, PromaxBDA, Propagate Content, Pukeko Pictures, Quebecor Contenu, Quinn Media Management, Ranini TV, Red Arrow International, Rezolution Picture , Roth Kirschenbaum Films, Scott Free Productions, Scripted World, Sea Dreams, Showtime Networks, Sky Deutschland GmbH, SKY Network TV, Sky Vision, Skydance, Smokehouse Pictures, Sonar Entertainment, Sony Pictures Television, Sreda Production, Star Media, Starz, StudioCanal, StudioCanal TV, SundanceTV, SVT, Swedlove Productions, Synchronicity Films , Tandem Productions, Tetra Media Fiction, The Canadian Film Centre, The Creative Studio, The Directors Guild of Canada, The Shuman Company, TNT, Tornante Television, TV2, TV4/CMore, UFA Fiction, Viafilm, Viasat World Limited, Vimeo, WeALL Media, Who Knew Entertainment, Inc., Wild Bunch TV, Wildcats Productions, Winter Star Productions, WME Global Television, Writing, yes DBS Satellite Services, YLE, Ziegler Film GmbH & Co. KG, Zieglerfilm Koeln, ZDF-enterprises