The City and The City to premiere at Content London
Lead actor David Morrissey (left), and writer Tony Grisoni will take part in a case study on The City and The City, ahead of its C21 premiere at Content London.
Adapted by Grisoni and directed by Tom Shankland, The City and The City is produced by Mammoth Screen for BBC Two. It is distributed internationally by ITV Studios.
Described as a genre-busting thriller based on the mind-bending 2009 novel by China Mieville, The City and The City follows the investigation of Inspector Tyador Borlu (Morrissey), a detective in the Extreme Crime Squad of the fictional rundown European city of Beszel, into the death of a foreign student. He soon discovers that the dead girl came from Beszel's sister city, Ul Qoma, and was involved in the political and cultural strife that exists between the two. To do his job, Borlu must work alongside the Ul Qoman police.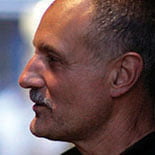 Grisoni and Morrissey previously worked together on Channel 4's Red Riding trilogy in 2009. Shankland directed the first season of the BBC and Starz' The Missing.
The case study will cover how the show was conceived, packaged and produced, and is being rolled out internationally.
The premiere will take place on the evening of Monday November 28 and is open to all Content London delegates.
Preethi Mavahalli (left), exec producer at Mammoth, and Ruth Berry, MD ITV Studios Global Entertainment, will also take part in the case study panel.
"This is a story that explores the way we live together today, set in divided cities where communities live cheek by jowl, choosing what they see and 'un-see," says Mavahalli.
See the latest conference information by CLICKING HERE.
Confirmed Content London speakers include:
Wayne Garvie

President, international production

Sony Pictures Television

Karen Bailey

Senior vice president, original programming

Starz

John Morayniss

Co-president, film, television and digital

Entertainment One

Tom Hastings

Director, drama, original programming

Bell Media

Ruth Berry

Managing director

ITV Studios Global Entertainment

Miguel Salvat

Commissioning editor of original programming

HBO España

Andy Ryan

Co-head of drama

Nine Network Australia

Ed Sayer

Head of original commissioning

Discovery Networks International

Hamish Mykura

EVP programming and development

National Geographic Global Networks

Keren Shahar

COO and president of distribution

Keshet International

Patricia Hidalgo

Chief content officer

Turner EMEA and International Kids Strategy

Tom Beattie

Head of kids and animation

Tiger Aspect Productions

Mike Beale

Managing director

Nordics & Global Creative Network, ITV Studios

Atar Dekel

Head of scripted global coproductions

Keshet International

Andrew Zein

SVP creative, format development & sales

Warner Bros. International TV Production

Nina Hahn

SVP, international production & development

Nickelodeon

Sue Goffe

Managing director & head of production

Studio AKA

CJ Fahey

General manager

VICELAND, EMEA & APAC

Eloise King

Digital programming executive & I-D global executive producer

VICE UK

Daniel Lennard

Executive producer

The Heroic Quest of the Valiant Prince Ivandoe

Randel Bryan

Managing director

Gunpowder & Sky International

Oli Hyatt

Managing director

Blue Zoo Animation

Chris Rose

Director of development and production

Beano Studios

Moritz Polter

Executive producer international TV series

Bavaria Fiction

Kristin Jones

Senior vice president, international programming

AMC and SundanceTV

Alon Aranya

Partner and executive producer

Scripted World

Michael Prupas

Executive producer & CEO

Muse Entertainment Enterprises

Frédérik Rangé

Director of acquisitions

Lagardère Studios Distribution

Jan Mocka

Producer, director, writer

Mocka Monitor

Thao Hoang

Head of distribution & partnerships

DEFY Media

Hakon Moslet

Head of TV & executive producer

NRK's Youth Department & Skame/Shame

Nadine Nonn

R.

Mentored by: Anna Winger, Screenwriter and novelist

Paul Roberts

The Bloody North

Mentored by: Bryan Elsley, MD & writer, Balloon Entertainment

Ryan Brown

The After

Mentored by: Chris Lunt, Screenwriter

Luke Eve

Writer/ director & executive producer

More Sauce

Nina Etspueler

Executive vice president creative operations

Red Arrow Entertainment Group

Dan Korn

Vice president programming

A+E Networks UK

Jamie Lynn

EVP, head of EMEA distribution

FremantleMedia

Jon Wax

Head of drama series & movies

YouTube Originals

Cat Lewis

CEO & executive producer

Nine Lives Media

Matt Graff

Managing director

Zig Zag Productions, UK
Content London has sold out for the past two years.
TIER 1 & TIER 2 tickets have already sold out.
TIER 3 tickets are currently available priced at £799.
CLICK HERE TO GET YOUR TIER 3 TICKET AND SAVE £100.
The International Drama Summit is the most significant gathering of the global scripted community in the calendar. More than 1200 executives come together to share new projects, discuss coproduction opportunities, hear from the world's leading players and engage around an unrivalled programme of screenings, conferences, awards and much more. This year we move to the award-winning Kings Place venue, with improved facilities, meeting space catering and a host of new session formats, premieres and networking events.
Content London opens with registration and a premiere screening on Sunday November 26, with the three-day event following on November 27/28/29. Be Part of The Story!