HBO, Hulu, Starz, Lookout Point join Content London line-up
Content London has added a raft of new speakers from leading US premium cable and streaming platforms, along with Lookout Point chairman and joint CEO Simon Vaughan to its speaker line-up.
A focus on US premium cable will feature at The International Drama Summit at Content London. This session will see leading players outline their programming strategy and discuss their approach to international partnerships.
Hulu will join a case study on its Neil Cross-penned drama Hard Sun, which is coproduced with the BBC, with FremantleMedia handling worldwide distribution.
Simon Vaughan will join the State of The Drama Nation opening session, which sets the agenda for discussion during the three-day event.
Content London is the most significant gathering of the international drama business and has sold out for the past two years. 
TIER 1 & TIER 2 tickets have already sold out.
TIER 3 tickets are currently available priced at £799.
CLICK HERE TO GET YOUR TIER 3 TICKET AND SAVE £100.


The latest speakers include:
Francesca Orsi
, co-head, HBO drama series
Francesca Orsi is co-head, HBO drama series, for Home Box Office, responsible for developing and overseeing the production of original drama series. She was named to this position in June 2016. Orsi currently oversees the series Vinyl and The Leftovers along with the upcoming HBO miniseries Big Little Lies. Her recent projects include Terence Winter's Emmy®-winning Boardwalk Empire, Emmy® and Golden Globe® nominated drama Big Love and the acclaimed comedy Getting On. In the past, she was involved with the Emmy® and Golden Globe®-winning dramas True Blood, In Treatment and Tell Me You Love Me.
Orsi joined HBO in 2003 as an executive assistant to the head of drama. She was named a creative associative in 2005 and rose through the ranks from manager, HBO Entertainment (now HBO Programming) and later director, Development, HBO Entertainment in 2008 to vice president, HBO Entertainment, in 2011 and most recently senior vice president, HBO Programming in 2014.
Jessica K. Scott
, director, content development, Hulu
Jessica Kumai Scott is a development executive on the Hulu Originals team, where she oversees the development of original series with a specific focus on all of Hulu's coproductions.
Since starting at Hulu four years ago, Jessica has led the development efforts for a slate of original series that includes the Emmy Award-winning drama series The Handmaid's Tale; Harlots, a coproduction with Monumental Pictures; The Path, a drama series from Universal Television and Jason Katims' True Jack Productions starring Aaron Paul, Michelle Monaghan and Hugh Dancy; 11.22.63, an event series executive produced by J.J. Abrams based on the best-selling book by Stephen King starring James Franco; and the Peabody Award winning National Treasure.
She is also the development lead for Hulu on Hard Sun, a one-hour drama series in association with the BBC starring Jim Sturgess (One Day, Cloud Atlas) and Agyness Deyn (Sunset Song).

Karen Bailey
, senior vice president, original programming, Starz
Based in the company's Beverly Hills office, Bailey oversees new development and current productions. These include STARZ Original series Outlander, now in production on its third season, as well as the sequel to the limited series The Missing with BBC1, the limited series The White Princess the follow-up to The White Queen (2013), and the upcoming Howard's End, a 4-part TV adaptation written by Academy Award winner Kenneth Lonergan.
Bailey joined STARZ in 2006 as a feature producer, overseeing development, production and post-production for the company's studio slate of television movies and mini-series for external networks, including SyFy, Lifetime and IFC. In 2007 she was promoted to vice president of production, and transitioned into overseeing physical production for the company's newly launched original programming department. Bailey spent the next few years building the internal production department and focusing on the networks new slate of original series, including Party Down, Crash, Boss and Spartacus. During her tenure in this position, the company increased its efforts to expand production into the global community, resulting in successful partnerships with production entities in New Zealand, Canada and United Kingdom.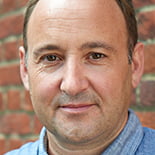 Simon Vaughan
, chairman and joint CEO, Lookout Point
Simon Vaughan has over 30 years' experience in television, working in a variety of roles including actor, writer, producer, executive producer, distributor and financier.
His distinct creative-business skill set is the foundation behind the company which he established in 2009 to produce high-end drama.
Former BBC Wales head of drama Faith Penhale joined Lookout Point as joint CEO in 2016, solidifying the company's strategic evolution as a major force in drama production. Simon and the team at Lookout Point work closely with BBC Worldwide, which is the largest shareholder in the company, to produce and distribute Lookout Point's slate of global British Drama.
Lookout Point's recent credits include Sally Wainwright's landmark single film about the lives of the Brontë sisters, To Walk Invisible, for BBC One; Andrew Davies' critically acclaimed adaptation of War and Peace for BBC One; Ripper Street for the BBC and Amazon; and The Collection, Oliver Goldstick's sumptuous drama set in a post-war Paris fashion house, for Amazon and France Télévisions.
Lookout Point is currently producing a number of major upcoming series including Mike Bartlett's bold and provocative newspaper drama, Press, with BBC Studios and Deep Indigo for BBC One and Masterpiece on PBS; Sally Wainwright's period drama, Gentleman Jack, about the quest by a lesbian landowner to find a wife in 19th century Yorkshire, co-produced with HBO for BBC One; Andrew Davies' adaptation of Victor Hugo's classic novel, Les Misérables, with BBC Studios and The Weinstein Company for BBC One; and Andrew Davies' adaptation of Vikram Seth's epic novel, A Suitable Boy, for BBC One.
Simon began his career as a child actor in BBC TV's Grange Hill and more recently co-wrote and executive produced his first feature film, Goodbye Christopher Robin.
Other confirmed speakers include:
Wayne Garvie

President, international production

Sony Pictures Television

Karen Bailey

Senior vice president, original programming

Starz

John Morayniss

Co-president, film, television and digital

Entertainment One

Tom Hastings

Director, drama, original programming

Bell Media

Ruth Berry

Managing director

ITV Studios Global Entertainment

Miguel Salvat

Commissioning editor of original programming

HBO España

Andy Ryan

Co-head of drama

Nine Network Australia

Ed Sayer

Head of original commissioning

Discovery Networks International

Hamish Mykura

EVP programming and development

National Geographic Global Networks

Keren Shahar

COO and president of distribution

Keshet International

Patricia Hidalgo

Chief content officer

Turner EMEA and International Kids Strategy

Tom Beattie

Head of kids and animation

Tiger Aspect Productions

Mike Beale

Managing director

Nordics & Global Creative Network, ITV Studios

Atar Dekel

Head of scripted global coproductions

Keshet International

Andrew Zein

SVP creative, format development & sales

Warner Bros. International TV Production

Nina Hahn

SVP, international production & development

Nickelodeon

Sue Goffe

Managing director & head of production

Studio AKA

CJ Fahey

General manager

VICELAND, EMEA & APAC

Eloise King

Digital programming executive & I-D global executive producer

VICE UK

Daniel Lennard

Executive producer

The Heroic Quest of the Valiant Prince Ivandoe

Randel Bryan

Managing director

Gunpowder & Sky International

Oli Hyatt

Managing director

Blue Zoo Animation

Chris Rose

Director of development and production

Beano Studios

Moritz Polter

Executive producer international TV series

Bavaria Fiction

Kristin Jones

Senior vice president, international programming

AMC and SundanceTV

Alon Aranya

Partner and executive producer

Scripted World

Michael Prupas

Executive producer & CEO

Muse Entertainment Enterprises

Frédérik Rangé

Director of acquisitions

Lagardère Studios Distribution

Jan Mocka

Producer, director, writer

Mocka Monitor

Thao Hoang

Head of distribution & partnerships

DEFY Media

Hakon Moslet

Head of TV & executive producer

NRK's Youth Department & Skame/Shame

Nadine Nonn

R.

Mentored by: Anna Winger, Screenwriter and novelist

Paul Roberts

The Bloody North

Mentored by: Bryan Elsley, MD & writer, Balloon Entertainment

Ryan Brown

The After

Mentored by: Chris Lunt, Screenwriter

Luke Eve

Writer/ director & executive producer

More Sauce

Nina Etspueler

Executive vice president creative operations

Red Arrow Entertainment Group

Dan Korn

Vice president programming

A+E Networks UK

Jamie Lynn

EVP, head of EMEA distribution

FremantleMedia

Jon Wax

Head of drama series & movies

YouTube Originals

Cat Lewis

CEO & executive producer

Nine Lives Media

Matt Graff

Managing director

Zig Zag Productions, UK
Content London has sold out for the past two years.
TIER 1 & TIER 2 tickets have already sold out.
TIER 3 tickets are currently available priced at £799.
CLICK HERE TO GET YOUR TIER 3 TICKET AND SAVE £100.
The International Drama Summit is the most significant gathering of the global scripted community in the calendar. More than 1200 executives come together to share new projects, discuss coproduction opportunities, hear from the world's leading players and engage around an unrivalled programme of screenings, conferences, awards and much more. This year we move to the award-winning Kings Place venue, with improved facilities, meeting space catering and a host of new session formats, premieres and networking events.
Content London opens with registration and a premiere screening on Sunday November 26, with the three-day event following on November 27/28/29. Be Part of The Story!
For full information on Content London CLICK HERE
.