Facebook, Barcroft join C21's Unscripted Entertainment Forum
Dan Biddle, strategic partner manager, entertainment, Facebook and Sam Barcroft, CEO, Barcroft Studios join the stellar line up of speakers at the Unscripted Entertainment Forum on December 6.
In a fireside chat, the pioneering execs will discuss partnering with Facebook to look at new ideas for content creation, building audiences, maximising the tools available to producers and the wider content opportunities available across the platform.
Earlybird tickets at £299 are now on sale
To register your place CLICK HERE.

Content innovation is at the heart of the forward-facing agenda at the Unscripted Entertainment Forum. Leading international broadcasters, global and niche platforms will reveal their latest content strategies and opportunities, key execs will debate what the future for the global unscripted business holds and we'll explore new opportunities around shortform, audio and podcasting.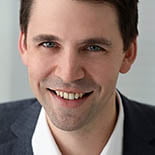 Dan Biddle, strategic partner manager, entertainment, Facebook
Biddle leads strategic partnerships with UK TV, film and digital publishers at Facebook. Prior to this, Biddle was director of strategic innovation and lead TV partnerships at Twitter for over four years. Prior to that, Biddle spent seven years leading digital and social media productions for TV and iPlayer at the BBC.
Sam Barcroft, CEO, Barcroft Studios
Barcroft Studios is an award-winning factual production company that specialises in producing amazing content, enjoyed and shared by millions of people worldwide. Its partners are platforms, broadcasters and media outlets around the world. Barcroft Studios' strategy of developing and incubating hit digital series brands and adapting them for linear broadcasters has seen the company produce programming for partners including Netflix, Facebook, WEtv, Channel 4 and Discovery.The company's digital channel Barcroft TV is one of the most popular factual channels on the internet. Its hugely successful series brands such as 'Hooked on the Look', 'Shake My Beauty', 'Born Different' and 'Extreme Love' have built passionate communities of over 50 million followers across Facebook, YouTube and Snapchat. Barcroft is a proven entrepreneurial leader who is at the forefront of successful content for new audiences. His reputation as a global digital disruptor has been earned from a 25-year career across news, television and OTT.
They join other confirmed speakers:

The Unscripted Entertainment Forum takes place as a standalone event as part of Content London on Friday December 6.
For more information and to book your earlybird ticket CLICK HERE.

The multi-award winning Content London is made up of four standalone events: The International Drama Summit, The Unscripted Entertainment Forum, Kids Content Futures and Screenomi.
The four day event features an unrivalled conference programme with over 200 speakers across more than 60 sessions. From commissioners, producers, financiers, technologists, agents, writers, and other key players in the value chain, Content London delivers the most compelling line-up to ensure delegates stay on top of trends that shape the business.