Honour and Watership Down join drama summit line-up
Sofia Helin is set to showcase her new project Honour, and Tom Bidwell brings Watership Down to Content London, adding both shows to the raft of drama series case studies at the event.
Honour, created and executive produced by four of Sweden's most renowned actresses, Sofia Helin, Alexandra Rapaport, Julia Dufvenius and Anja Lundqvist. The latter three, alongside Eva Röse, play the leading roles in the series which is produced by Bigster for Viaplay.
The law firm Heder (named for the Swedish word for Honour) is run by four hungry, talented female lawyers, fighting on the behalf of those who need it most: the weak, the abused, those ignored by the rest of the society. However, in addition to dealing with the usual macho, sexist abuse that successful women in the public eye can expect to suffer, the women of Heder have a much greater, graver fight on their hands, as a dark secret held since their days in law school is about to be exposed... Honour is a thrilling, even frightening, drama, coming at a crucial time for a changing society.
We hear the development and production story behind the show and when we can expect it to hit screens.  Joining Helin will be executive producer Alexandra Rapaprt, producer Birgitta Wannstrom, Eccho Rights' Nicola Soderlund and Viaplay's Fredrik Ljunberg
New and innovative interpretation of Richard Adams's classic novel, Watership Down, is the first animated drama mini-series ever made for television, and was the first major co-production between the BBC and Netflix. The story features a group of plucky rabbits who, after a foreboding premonition, abandon their warren in search of a new home.  It features an all star cast, including James McAvoy, Nicholas Hoult, Sir Ben Kingsley, OIivia Colman, Gemma Arterton, Daniel Kaluuya and Rosamund Pike, amongst others. This four hour series explores the characters and themes in the book, bringing the story to a new generation of families to enjoy. We hear how the story has been re imagined and produced for television from writer Tom Bidwell, Netflix's Larry Tanz, BBC's Ben Irving, and 42's Rory Aitkin.
To view the International Drama Summit agenda
CLICK HERE.
SPEAKERS IN THESE SESSIONS INCLUDE:
Honour:
Sofia Helin, executive producer and co-creator, Honour
Sofia was awarded the Swedish TV award Kristallen and the Danish TV award Robert for her critically acclaimed role as Saga Norén in the worldwide hit series "Bron" (The original version of the Bridge). In the UK, the Times thought Sofia was "outstanding" and the Guardian concluded that she was "in a class of her own." As well as leading the cast, Sofia was a producer on the final season of Bron which aired in 2018. Alongside actors Alexandra Rapaport, Julia Dufvenius and Anja Lundqvist, Sofia Helin has co-created and is executive producer for upcoming Viaplay series Honour.
Alexandra Rapaport, executive producer,co-creator and actor, Honour
In recent years Alexandra has played the lead role in hugely successful Swedish TV series such as "The Sandhamn Murders" and "Gåsmamman," her role in the latter winning her the Best Actress prize at Sweden's most prestigious television awards ceremony, Kristallen, in September 2017. As Executive Producer she was fully involved in the creative process on each season of Gåsmamman, from shaping the scripts, to casting, to editing. Alongside Sofia Helin and co-stars Julia Dufvenius and Anja Lundqvist, Alexandra Rapaport has co-created and is executive producer for upcoming Viaplay series Honour.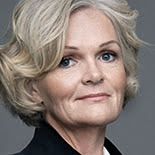 Birgitta Wannstrom, producer, Honour
Birgitta is the producer of the award-winning series "Gåsmamman" for C More/Kanal 5 in Sweden. She has also produced several series of the international success story "Maria Wern". In 2017 she co-founded production company Bigster.
Nicola Soderlund, managing partner, Eccho Rights
Nicola started out his career as a producer before founding Eccho Rights (formerly Sparks Network) with business partner Fredrik af Malmborg in 2004. The company has grown to be one of the world's leading independent distributors, currently delivering over 12000 hours of international drama per year.
Fredrik Ljungberg, program director, Viaplay & Vissat Nordic
Fredrik has spent over 20 years in TV programming and acquisition, first at Kanal 5, then MTG/TV3 and since 2014 at Viaplay. In recent years Fredrik's executive producer credits have included hit series such as "Swedish Dicks," "The Restaurant" and "Conspiracy of Silence."
Watership Down
Tom Bidwell, writer, Watership Down
Tom adapted Richard Adams' Watership Down as a 4 x 1hr for BBC/ Netflix, and created & wrote the BAFTA nominated series My Mad Fat Diary for E4. Other credits include the Academy Award nominated short film Wish 143, and Jacqueline Wilson's novel Katy as a three-part special for the BBC.   
Larry Tanz, vice president, global television, Netflix
Larry is an American entertainment industry executive. He has held executive positions with AOL Time Warner, and previously served as president and CEO of LivePlanet, as well as the president and CEO of Vuguru. He is currently the VP of Global Television at Netflix.
Ben Irving, commissioning editor, BBC
As a drama commissioning editor at the BBC, Ben oversees a slate of projects in development and production. Current productions include Doctor Who, Jack Thorne's adaptation of His Dark Materials, and Sally Wainwright's Gentleman Jack. Previously Ben was VP development & production at David Heyman's Heyday Films, working across both Film and TV projects. During his time at Heyday the company produced Gravity, Paddington, Paddington 2, The Light Between Oceans, Testament of Youth, and Fantastic Beasts And Where To Find Them. Earlier in his career Ben worked with Ollie Madden in the London office of Warner Bros. Pictures and for Michael Kuhn at Qwerty Films.
Rory Aitkin, co-founder, 42
Rory is a producer, and a founding partner of London and LA based Management and Production Company 42. 42's TV shows in production include Watership Down and Jerusalem, a 6-part drama series commissioned by Channel 4, written by Bathsheba Doran. 42 has numerous other series in development with UK and US broadcasters.
Films currently in post-production include André Øvredal's Mortal, a fantasy adventure based on ancient Norwegian mythology; The Titan starring Sam Worthington and Taylor Schilling; and In Darkness, directed by Anthony Byrne and starring Natalie Dormer and Ed Skrein.
Previous film credits include Øvredal's The Autopsy of Jane Doe starring Emile Hirsch and Brian Cox; Eran Creevy's Collide, starring Nicholas Hoult, Felicity Jones, Sir Anthony Hopkins and Sir Ben Kingsley; and Netflix Original war drama Sand Castle, directed by Fernando Coimbra, starring Nicholas Hoult and Henry Cavill; The Other Side Of The Door, directed by Johannes Roberts and financed by 20th Century Fox; London-based crime thriller Welcome To The Punch, exec produced by Ridley Scott; and the BAFTA- nominated feature film Shifty.
They join other confirmed speakers:
Erik Barmack

Vice president, international originals

Netflix

Jon Wax

Head of drama series & movies

YouTube Originals

Larry Tanz

Vice president, global television

Netflix

Kristin Jones

EVP of international programming

AMC and Sundance TV

Superna Kalle

Executive vice president, international digital networks

Starz

Antony Root

EVP original programming and production

HBO Europe

Bryan Elsley

Managing director & writer

Balloon Entertainment

Matt Creasey

Executive VP, distribution

Endemol Shine International

Hanne Palmquist

Commissioning editor and VP, original programming

HBO Nordic

Miguel Salvat

Commissioning editor of original programming

HBO España

Dan Cohen

President, worldwide television licensing

Paramount Pictures Corporation

Steve Matthews

VP and executive producer, drama development

HBO Europe

Steve Stark

President, television production & development

Metro Goldwyn Mayer Studios

Lars Blomgren

Executive producer and head of scripted EMEA

Endemol Shine Group

Karen Hall

Writer, producer

New Voyage Productions

Moritz Polter

Executive producer international television series

Bavaria Fiction

Nick Betts

Director scripted production

BBC Studios

Bea Hegedus

VP global content, scripted

ITV Studios Global Entertainment

Dan May

Co-founder

Painting Practice

James Carroll

Broadcast and brand licensing agent

Northbank Talent Management

Alex Fraser

SVP of acquisition

Red Arrow Studios International

Mark Talbot

Head of comedy development

Hat Trick Productions
The multi-award winning Content London is made up of three standalone events: The International Drama Summit, The Unscripted Entertainment Forum and Kids Content Futures.
The International Drama Summit takes place on November 27/28/29, with Unscripted and Kids taking place on November 30.
TIER 4 tickets are available at £899, a £100 saving on the full ticket price of £999. To book your place at this price
CLICK HERE.
To see what our delegates say about Content London
CLICK HERE.
C21 has negotiated discount rooms at the official event hotel, The St Pancras Renaissance Hotel. There are a limited number available. To book your room
CLICK HERE.
Keep up to date on Twitter
#contentlondon18
Content London 2018 sponsors: