A full day devoted to every which way to get your programming funded, from the new UK tax credits to crowd-funding models, coproduction treaties, private equity finance, good old fashioned pre-sales and much more. If you want an A-Z of funding options this is a must-attend for anyone in the content business.
The Content Funding Forum is part of Content London, a two-day event made up of three other events; FutureMedia, Propaganda Factory and The International Drama Summit. Each strand is designed for executives working in the international content business to better understand cross-sector opportunities in the ever-changing media and entertainment sector.
Single event or full Content London delegate packages are available by clicking here.
Premium Sponsors:
Partners:
For an at-a-glance four-day Content London agenda click here
Final agenda


8.30 - 9.15
Registration


Your host for the day:
David Jenkinson
Editor-in-chief & managing director
C21Media


9.15
Opening remarks



9.30
Funding the future of content
As new channels and platforms provide fresh opportunity, the coproduction and pre-sales landscape changing, and the commercial models around programme finance and distribution changing by the day. What type of programming are leading players looking to invest in, and how are they adapting their operations to stay one step ahead?
Jeremy Salsby, Creative director, Saltbeef Productions
Georgina Eyre, Head of acquisitions, Off The Fence
Peter Emerson, President, eOne TV
Jeremy Fox, CEO, DRG
Tim Mutimer, Head of Non-scripted Programming, Zodiak Rights
Oliver Lang, Controller of Content Investment, BBC Worldwide
Producer/moderator:
David Jenkinson

11.00
Coffee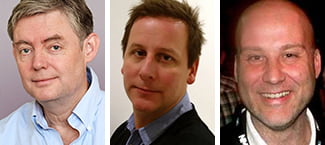 11.30
Session 3
VC Funding Futures: What's it worth
Equity houses continue to invest in both production companies and increasingly in programming itself, but how do they see the current market and what are they looking to spend their money on in the next 12 months? If you are looking for investment this panel of experts is on the money.
Patrick Bradley, CEO, Ingenious Ventures
Jean de Fougerolles, managing director, Ascension Ventures
Stuart Mullin, joint founder, Greenbird
Producer/moderator:
Mike Dicks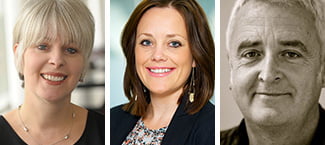 12.15
Session 4
New funding models case study: Hinterland
Upcoming S4C drama is being produced in Welsh and English, will window broadcast in its local language and on the BBC within weeks, and was pre-sold to Scandinavia off script. How does that happen, and what does it say about the changing shape of international coproduction?
Louise Pedersen, MD, All3Media International
Gwawr Martha Lloyd, content commissioner, S4C
Ed Thomas, creative director and executive producer and co-creator, Fiction Factory
Producer/moderator:
Andrew Baker


13.00
Lunch



14.15
Funding futures
Major studios and channels are bidding to take a stake in the best content and the best independent producers. In this session we hear from leading players about what's on their agenda for 2014 and how they intend to develop their content businesses by investing their money where it counts.
Dan Brooke, chief marketing & communications officer, Channel 4
More speakers to be announced
Producer/moderator:
Mike Dicks



14.45
Session 6
Crowd funding Film and TV
In increasing number of producers are now trying to use crowd funding platforms to underwrite development. We bring together an unrivalled panel of experts to discuss the dos and don't of crowd funding content with examples of how to design a strategy that is most likely to succeed.
Nicola Horlick, chairman, Rockpool Investments LLP
Aubrey Levy, founder, Mobcaster
Jennifer Anderson, chief operating officer, Slated, Inc
Emily Mackay, founder, Crowdsurfer
Adrian Hon, co-founder, Six to Start
Producer/moderator:
Richard Shaw, director of development, Lion Television

16.00
Tea



16.15
Session 7
Making the new UK Tax Relief work for you
The new UK Tax Relief is opening up a new world of opportunity for local and international producers. This session provides and A-Z on how to make them work best for you and how to avoid the pitfalls. We hear from leading producers, lawyers, accounts and Film London about making the tax credit work for you.
Produced in association with Film London
Iain Smith, Producer, 24, Seven Years In Tibet, Children of Men
Adrian Wootton, chief executive, Film London and the British Film Commission
Liz Brion, head of media tax, Grant Thornton
Oli Hyatt, creative director, Blue-Zoo
Barry Smith, partner, Field Fisher Waterhouse LLP
Producer/moderator:
David Jenkinson


17.30
Conference close


17.30-20.00
Content London Networking Cocktail
BAFTA and how to get there
The Academy was formed on 16 April 1947 when a group of the most eminent names in the British film production industry gathered in a room at the Hyde Park Hotel. The great film director David Lean was appointed Chairman. Their fundamental aim was "to recognise those who had contributed outstanding creative work towards the advancement of British film." Nowadays the British Academy of Film and Television Arts supports, develops and promotes the artforms of the moving image, by identifying and rewarding excellence, inspiring practitioners and benefiting the public. The promotion of excellence isn't something that only happens at Awards ceremonies. There is an equally powerful role that the Academy plays at its headquarters at 195 Piccadilly and across its nations and regions, in cinemas, schools and communities in the UK and US.
The Academy's full address is 195 Piccadilly, London W1J 9LN.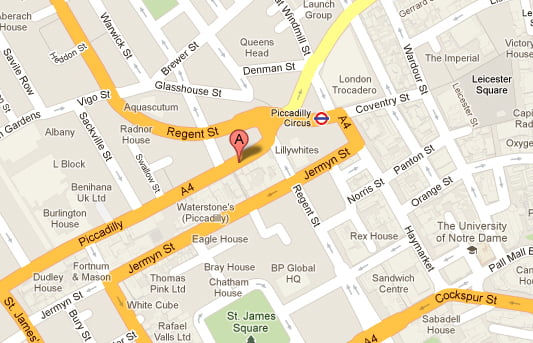 The nearest tube stations are Piccadilly Circus and Green Park.
Click here to plan your journey to BAFTA on public transport.
Travelling to BAFTA by road is inadvisable as there is limited parking available nearby. Parking meters are on Sackville St., Jermyn St. and St. James's Sq. The nearest NCP is on Brewer St.