Enter the C21/FRAPA International Format Awards today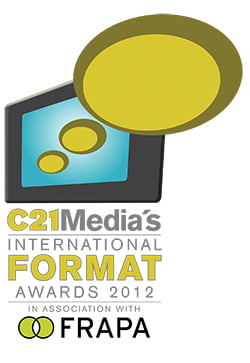 The C21 Media International Format Awards 2012 in association with FRAPA are open to all programmes that had their first broadcast between September 2011 and August 2012, anywhere in the world, and are now being represented internationally as a format.
Through this form you can enter shows in any of the seven award categories. Once we have received your entry we will be in touch to complete your entry.
Click through from each category to enter shows.
Formats will be screened and voted for online during September by C21′s community of 35,000 international entertainment industry executives.
We have thousands of votes from all corners of the world, making these awards the most democratic, and due to the scale of voting, fair and above influence!
You can vote for your favourite show here.
Don't delay, enter your formats now in one or more of the following categories:
1. Best Studio Based Gameshow Format
Studio Based Gameshows can cover everything from serious quizzes to physical studio games to cooking and dating games. At the core, they must take place in a closed studio environment and some game must be played, almost always with competition and winners.
Click here to submit your entry
2. Best Comedy Format
Comedy Format is for unscripted comedies, not sitcoms. These are comedy formats in studio or the field that might involve comedy sketches, improve, hidden camera, panels. They won't be confused with actors in sitcoms but might be confused with quiz shows except, for comedies, the answers don't matter. The laughs are the thing.
Click here to submit your entry
3. Best Competition Reality Format
Comp Reality takes in everything from Survivor to So You Think You Can Dance. At the core, there is a winner. Participants (celebrities or public) are playing to win. All modern talent shows are Comp Reality. Even though a lot of the competition takes place in a studio, nowadays, nearly all have out of studio elements not least of which is public voting.
Click here to submit your entry
4. Best Factual Entertainment Format
In our awards Factual Entertainment has a broader definition than used in Britain where Factual and Factual Entertainment mean different things. For these awards, Factual Entertainment Formats are formats, shot in the field or in studios where there is not competition but rather the exploration of a slice of life either for elucidation or for entertainment. The topics could be life or death (Deadliest Catch) or lifestyle (cooking).
Click here to submit your entry
5. Best Multi-platform Format
Format that at their core have some platform aside from television integral to the show's narrative. A website, social network page or telephony that is merely a promotional vehicle for the show would not qualify. The other non TV platforms have to interact with the casting, narrative or outcome of the show to make it a significant multi-platform format.
Click here to submit your entry
6. Best Scripted Format
These are scripted shows (either comedy or drama) that have been formatted for territories outside their country of origin It could be the Nanny or In Treatment or Ugly Betty but wherever they come from once they go to a second territory they are eligible for our Format Award.
Click here to submit your entry
7. Best Brand Driven Format
More than just a bit of product placement or brand integration, this category is about Formats that owe their existence to a Brand or advertiser which has played a crucial part in the Format's creation. The Format could be a Studio-Based Gameshow or Factual Entertainment chat show, but it was brought to television with the key input of a brand.
Click here to submit your entry
Having problems? Call Katie on +44 (0) 20 7729 7460, and she'll be happy to help you out.
Sponsors and media partners
The Full Entry Criteria
All entries must be made between July 11 and September 12, 2012.
All 35,000 C21Media.net users will be eligible to vote in The C21 International Format Awards between 5 September 2012 and 2 October 2012.
Each person has one vote only in each category. This vote can be moved from programme to programme throughout the awards.
The vote that is registered on October 2 will be the vote that counts towards the final total.
Voting will end on October 2. All votes will be totaled and finalists announced in each category.
All finalists will be invited to a reception at MIPCOM in Cannes on Wednesday October 10.
At this ceremony awards will be presented in each category.
FRAPA board members and the C21 editorial team will preside over the initial selection of programmes entering the awards.
This is the only awards series in the International Entertainment Business that sees the whole community able to vote for the best in entertainment.